Are you ready to take a journey into the dark and mysterious world of the unknown? The Black Tarot is here to help. This unique tarot deck uses intense art that will lead to powerful readings, and help with shadow work, where you enter the darkness and dig deep into your soul. With its modern art and fearless approach to the ancient craft, this tarot deck will allow you to discover the hidden truths in your own life. From understanding the mysteries of fate to unlocking your potential, uncovering the unknown has never been more exciting. Get this tarot deck and be ready to explore the depths of your own being.
What Buyers Love About this Deck!

The intense artwork, which is perfect for shadow work.

The black edging of the cards and their matte finish.
The powerful messaging with every reading and each card.

The expertly written guidebook, with the artist's unique interpretations.
The sturdy card stock.




Custom content
Artist
Victoria is a graphic illustrator who collaborates with many different publishers. She loves art that is sincere and moves the viewer. "I consider the Northern Revival style to be the highest art form; I can even cry in front of the pieces." She believes art should impact the person intensely and possess a hidden magic that unfolds while being viewed.
INSPIRATION
Inspired by her visions of the dark underworld, artist Victoria Iva created these eerie and macabre cards to help you penetrate the depths of the darkest reaches of your psyche and soul. Her incredible use of black, grays, and white render stunning images that will provide you with powerful personal and professional readings. This deck will truly take you to another world.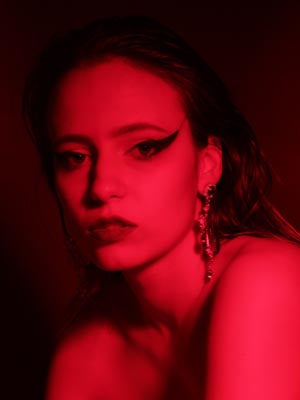 Click on the arrows to advance to the previous or following card. Or, click on the center card, hold down your mouse click, and drag the images in either direction.